Regular price
$0.00 USD
Sale price
$28.00 USD
Unit price
per
Sale
Sold out
Mix and Match by CHICA BEAUTY
It's time to bring out our inner beauty with Chica Beauty's new BOSS set featuring a gel eyeliner and our 3-in-1 Brow! As a woman on the go, you may not have as much time as you would like when it comes to applying makeup. With our easy-to-use gel eyeliner and our quick and efficient all-in-one brow tool, you can achieve full, nicely-shaped brows and bring attention to your beautiful eyes to boost your confidence and Get it Chica mentality! The BOSS set is perfect for formal occasions like weddings, baby showers, quinceañeras or just running errands around town. Be boardroom ready for the perfect pitch with Chica Beauty's Boss Set! 
Our super smooth, long-wearing liners have an intense color that makes your eyes pop! This easy-to-use gel eyeliner is made with Soybean Oil and Safflower Seed Oil so your eyes not only look beautiful but are hydrated with moisturizing ingredients. Chamomile and Vitamins C & E help ensure a gentle application for delicate eyelids. 
Chica Beauty's three-in-one eyebrow tool includes a color pencil for definition, tinted brow powder to fill and volumize and a luxe color gel to set your feathered brow look! This buildable formula allows you to achieve an eyebrow look that is as natural-looking or bold as you like! You can apply as little or as much as you have time for with its water and sweat resistance, it will last all day! 
Pencil - use alone or as the beginning step. The creamy, stay-put formula features a flat tip for a precise outline to shape or fill in with hair-like precision strokes.
Powder - use alone for a softer more natural brow or over the pencil to finish filling in and adding realistic texture.
Gel - use alone or as the finishing touch to set your shape in place
Pick from one of Chica Beauty's beloved eyeliners: Voyage, Sienna, and Noir. 
Voyage - A navy blue color, often associated with confidence and being a BOSS. Voyage allows for a subtle pop of color on the eye, and helps makeup looks appear clean and bold. 
Sienna  -  A dark brown shade, perfect for a more soft and natural look while also making your eyes look richer and more beautiful! Sienna's warm color is a great choice for any daytime looks when you want to enhance your eyes just a bit! 
Noir - A classic black eyeliner provides sharp yet flattering makeup for your beautiful eyes. Create iconic eyeliner makeup looks with this stable that is sure to make you feel like the BOSS you are! 
Be the girl-boss we know you are with the easy-to- use eye makeup in the BOSS set! Your eyes will pop and your inner beauty and confidence will shine through because after all "You're a Jefa. Get it Chica!"
BONUS: Eco-friendly BOSS/JEFA makeup bag for easy storage!
*Save $6 on Boss set vs. purchasing products individually
Net Weight:
- 3-In-1 Brow Multi-Tool (0.04 oz )
- Gel Eyeliner (0.04 oz )
NOT TESTED ON ANIMALS. CRUELTY-FREE.
Share
Shipping

Chica Beauty LLC ships products using 2 types of services below.  The typical time from order to delivery is also listed. Chica Beauty always attempts to fill orders within 24-48 hours of receipt and to ship your product in a well secured box that arrives promptly to your home.

Below are the carriers we use and typical ship times.

Standard: Typically Arrives 5-7 Days After Shipping

Priority:    Typically Arrives 2-3 Days After Shipping

For information regarding your shipment, please contact the carrier associated with the tracking number.
Return policy

100% Risk Free Beauty

Return any product (used or unused) within 10 Days to get a full refund.Chica Beauty wants you to be 100% satisfied with your purchase. Should you be unhappy with your purchase for any reason, we will issue a refund, store credit, or product exchange. Just return the product to us within 10 days of receipt andsend us an email. You will receive instructions on how to return your product. Please note, your original shipping charges are not refunded. Please allow 5-10 business days to for your refund to process.

We love all of our customers and supporters, and we hope you'll give us another chance on another product soon.
View full details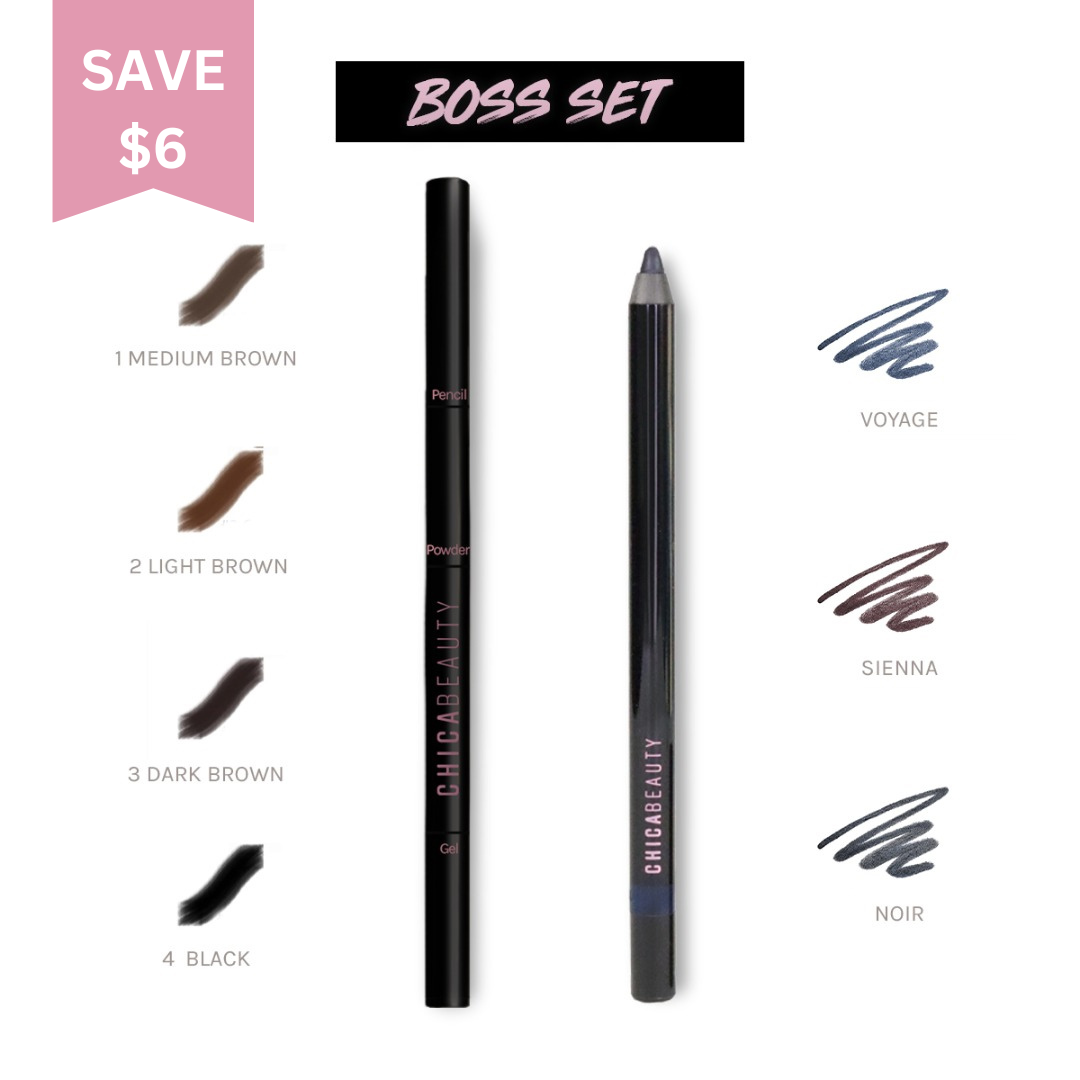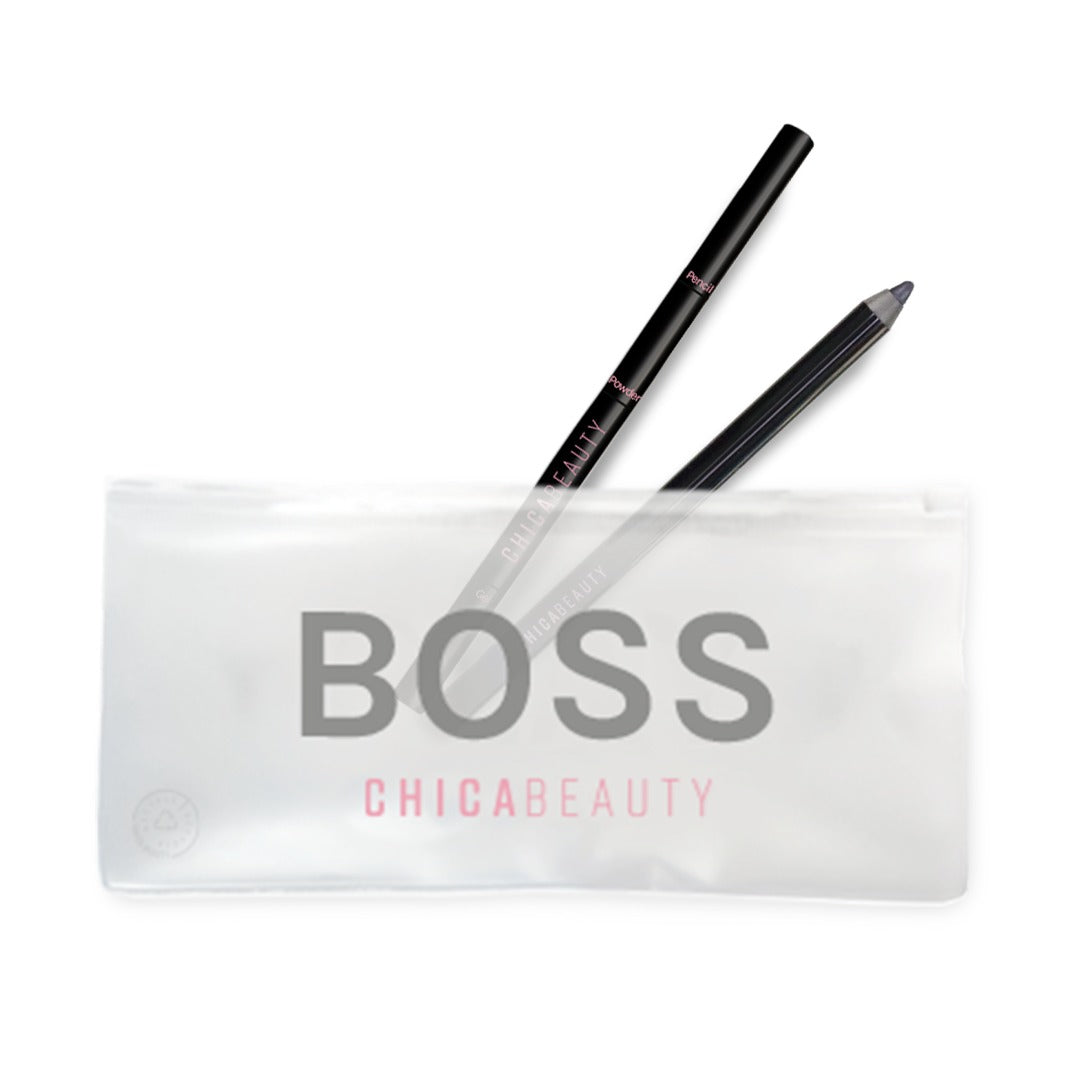 Great Set
I love the Boss/Jefa Set 2.0! I chose Sienna for the Gel Eyeliner shade, and it goes on so smooth. I got the 3-in-1 Eyebrow "Multi-Tasker" in Shade 3 - Dark Brown. I really like that there are a variety of ways to use it. It's so dynamic and doesn't disappoint.